There's Beauty
I find beauty in so many things.
There's beauty in the foliage that often lines the interstate of southern cities especially when spring has just arrived in the color from the flowers are filling in the once colorless spaces.
I am going to miss these hydrangeas.
There's beauty in nature. All aspects. He is The great artist, designer, creator ...
There's beauty in the quiet mornings when I am able to watch darkness turn to light.
There's beauty in the way my daughters sit on my lap for minutes at a time even when my legs begin to go numb because I am not sitting in a good position.
There's beauty in the girls and their crazy outfits that don't always match, but still manages to look lovely.
There's beauty in the way Eva sits patiently waiting for my acknowledgement because she just can't function without a pat and belly rub from me several times a day.
There's beauty in this messy house. The life that we once lived here being packed away for a new journey.
There's beauty in the journey. We don't know the end result or the steps that we will have to obediently take, but we know they are beautiful because we are being led by Him.
There's beauty in the way Vic and I hold hands ever so often (when it's not cold; our hands are in pockets when it's freezing outside) as we head into our weekly date at Arby's where we have the place to ourselves aside from the workers.
There's beauty in our marriage. And craziness, too. Craziness because I have the weirdest sense of humor, but laughter is good for the soul.
There's beauty in this life of mine. Even when days are long, and I crash before my girls. Even when I am not sure if I am on the right path. Even when I am sure that I have ventured off the path. Even when the picture looks a little dusty there's always beauty.
What are you finding beauty in this week?
This post is linked to
The Mahogany Way's: What's Your Story
weekly series. Want to join in? Visit her blog where she shares the word for the week.
Blessings,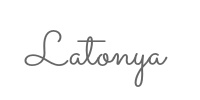 ©2009- 2015 A Little This... A Little That. All rights reserved. All photographs, text, artwork, and other content may not be reproduced or transmitted in any form without the written permission of the author. http://lilthisandthat.com