Mornings are my favorite part of the day. It's something about having a fresh start. I guess something similar to the beginning of a new year. I wake each morning not feeling defeated of yesterday's struggles, but excited about the possibilities of a new day.
I often wake several times before actually exiting the bed. I wake up too early at times. During my first wake, I thank God for blessing me to see another day before I am lulled back to sleep. The next waking, I pray for my family, and then I am usually ready to start my day.
If I am lucky, there will be a song playing in my head. If there is a song playing, I will listen to it on Spotify when I get the room to myself :) Every now then, I let my family in on my morning music.
Mornings aren't harried around here. There is some routine as far as breakfast and getting dressed. Overall, we ease into our day. Doing the things that we find the most important whether it's starting a lesson or visiting a friend. No morning is exactly the same as the previous.
Each morning is a blessing. A blank canvas waiting to be brought to life.
What are mornings like in your house?
This post is linked to
The Mahogany Way's What's Your Story Series
. Join in. Each week has a different topic.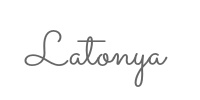 ©2009- 2015 A Little This... A Little That. All rights reserved. All photographs, text, artwork, and other content may not be reproduced or transmitted in any form without the written permission of the author. http://lilthisandthat.com