Fear Less, Trust More
For over a year, this scripture graced our bathroom mirror.
It helped me. It comforted me. It nurtured me. It taught me.
During this time and currently, I was/am learning about the power of fear. Almost everywhere I look, I see phrases and slogans of being and living fearless.
This scripture reminds me that fear and timidity are real. But, it also shows me that these things do not come from the Father. It reminds me of the things that I am made of which are power, love, and self-discipline.
I still find myself fighting fear. Not as often, but still it lurks in the shadows. It sneaks up on me when I am not focused or not in tune with God and His word. It taunts me when I can't see my next step.
Fear finds its power when I fail to trust the One who created me. It wins when I try to control the outcome versus trusting Him no matter what the outcome may be.
How do I battle fear?
I open my Bible and read it.
I pray.
I keep moving forward. If something seems to hard, I keep going.
I talk to myself. I remind myself that if I fail that is good too.
I accept the failure if it happens. Failing has been my greatest teacher. It helps me to find a different solution if the first didn't work.
I seek out counsel from someone who has experienced the thing that I am trying to confront. This can be direct or indirect. There are times when I call an actual person, there are times when I pick up a book and read it, there are times when I find a YouTube video and watch it.
I pray.
Fear will always be around, but it is my response to fear that makes the impact.
Are you fearless? How do you confront the things that you are afraid to do?
This post was inspired by Darcel at
for the
.
Be Blessed!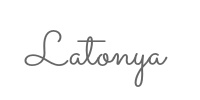 ©2009- 2015 A Little This... A Little That. All rights reserved. All photographs, text, artwork, and other content may not be reproduced or transmitted in any form without the written permission of the author. http://lilthisandthat.com