What We're Learning :: The Next Chapter
Somewhere in my mind I thought everything was going to fall together so quickly. We, both, desired to hit pavement running. We wanted to just jump right in with little to no wait time.
We didn't consider that although God is in our story that maybe, just maybe we were going to still have to be patient. We didn't consider that even though we have drive that sometimes it might just need to show up in the form of patience.
We moved a little over four months ago. We knew that it wasn't going to be easy, but again somewhere within me I just wanted a big story. Have you ever read or heard someone's story, and it seemed so big? Like amazing?! I think I wanted that. I become disappointed in myself when I began to feel that way. Each day God shows me just how present He is in my life ... my family's life. Every day I am living my BIG story.
What has this new chapter taught me?
Patience is still key. Even though we are in a new and better place in our lives, it is important for us not to get too far ahead of ourselves.
Old habits are hard to break, but we must continue to persevere. I enjoy taking the girls out, but when we first got here our finances were not the same. I had to mentally readjust for our now.
For us, simple is better. We have gotten rid of a lot of things and aren't interested in replacing most of them. We now live in an apartment which is peaceful for me as the homemaker. I am not really into huge spaces because they take a lot to maintain. We may live in a house again, but I am going to enjoy apartment living for however long the season lasts.
My family is what is most important to me. Because money can be a looming factor every now then, I find myself becoming distracted. I begin wondering if being home is the right thing when things get tough, but over and over again I have been shown that I am where I am suppose to be at this time. It's been about a month since I have begun feeling a sense of peace about our choice for me to remain home. I hope and believe that the sense will remain.
Continue to embrace the moment. I try not to get too far ahead, but every now and again I do. Living in and embracing the moment has been the best thing. Overall, I am a content person, and for me to remain content I have to be mindful of what I am feeding my mind by removing stimulus that is counterproductive to who I am.
What are things that you have learned when starting over or entering a new season of life?
This post was inspired by Darcel fromWhat's Your Story Series.
Be Blessed,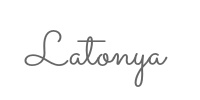 ©2009- 2015 A Little This... A Little That. All rights reserved. All photographs, text, artwork, and other content may not be reproduced or transmitted in any form without the written permission of the author. http://lilthisandthat.com