It was brought to my attention a few weeks ago that I was battling the need for more than the mundane. It was also brought to my attention that my daughter was battling the need for more inspiring lunches. The lunch issue caused me to think about the desire for more exciting moments.
One of our daughters struggles with lunch. It's been at least a year since the girls took on fixing their own lunches. I thought it was a good way for them to become more responsible for themselves. I had no idea that it would become a source of contention for one of them.
The issue with preparing lunch is she doesn't always know what to prepare. I didn't give them guidelines or restrictions. My only requirement was to eat lunch. Well, last month I finally grew tired of the lunch time struggle and implemented peanut butter and jelly lunches unless I prepare lunch.
The peanut butter and jelly lunches caused me to really think. Who would have thought peanut butter and jelly could be inspiring?
What peanut butter and jelly taught me ...
Everyday doesn't have to be fascinating.
Ordinary days are gifts. There is little fuss in the ordinary.
Extraordinary days are gifts. They stand out because they don't happen often.
Contentment is something to be sought after. By nature, we aren't content.
Restrictions aren't bad because rarely will receive everything we want when we want it.
Understand the purpose for the things that you do.
This has translated into our lives in several ways. Peanut butter everyday isn't exciting, but it sustains, and when I prepare a lunch meal or take them out for lunch it is appreciated more versus the feelings of entitlement. When we have somewhat of an understanding of the purpose for whatever, in this case having a meal at lunch, we are able to be content with whatever the meal is because it is serving its purpose.
As a human, I struggle with days that I feel I should be doing more, being more, and so on, but I have come to understand that those thoughts only harm me versus help. When I compare my ordinary days to extraordinary days, I miss out on the day in which I am living and when I take a moment to reflect I realize that sucks.
Yesterday and today are very ordinary days, but I found joy in yesterday as I cleaned the microwave. Isn't it lovely? Hopefully, it will make it a week or so before something explodes in it :) I went to the doctor and found out that I have a clean bill of health, and my new doctor is pretty cool. He was very excited about my numbers and felt that doctor's should tell their patients when they are doing things right.
And we know that in all things God works for the good of those who love him, who have been called according to his purpose.
Romans 8:28
I am still learning that all things mean ALL things not just the extraordinary.
How do you embrace the ordinary? Do you have any favorite lunch time recipes for children?
Be blessed,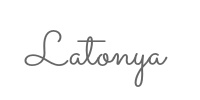 © 2009-2015 A Little This... A Little That. All rights reserved. All photographs, text, artwork, and other content may not be reproduced or transmitted in any form without the written permission of the author. http://lilthisandthat.com