The Basics of Critical Thinking
If you have read any of our home school reflections, then you know that communication and thinking usually makes the list in our life skills section. Over the past few weeks, we have been receiving help with developing our thinking skills with The Critical Thinking Co.'s The Basics of Critical Thinking workbook which we received to review. The Critical Thinking Co. is well known for helping learners young and old build their thinking muscles. Although we were given several options to review, our eight year old chose this text which is geared towards students in grades fourth through ninth.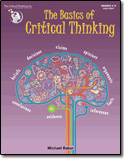 The Technical Stuff about The Basics of Critical Thinking :
The workbook is 133 pages not including the answer guide.
It is reproducible for a family or classroom.
All pages are in color and perforated.
How did we use The Basics of Critical Thinking?
Both of our daughters, ages 10 and 8, use this supplemental curriculum. Although they both make logical choices and pretty good decisions, we thought the material presented in The Basics of Critical Thinking would help them to have a better understanding ofthe why in their decision making process, and also help them to better understand opinions versus facts.
Since the curriculum is workbook based, it was a must for me to photocopy the assignments we did each week in order for each of the girls to have their own visual to work from as we completed lessons. When we began a new lesson, I didn't copy the instruction pages instead we discussed those and answered the initial questions together. This discussion time allowed the girls to have the opportunity to ask questions if they did not fully understand the concept such as when they learned about decisions versus conclusions.
We initially completed our lessons as evening work because they were fun and engaging, but as the weeks went on we added to our after lunch lessons. I found that either time slot worked because the girls looked forward to solving the clues.
About The Basics of Critical Thinking...
The book is separated into twenty lessons or units. The first few pages inform the instructor of the purpose of text and some myths that are associated with critical thinking such as conflicts with evidence-based thinking and faith-based beliefs.
The first lesson introduces the learner to critical thinking and the definition of it which the author defines as, "finding and evaluating evidence to make the best decision." Each lesson thereafter continues to build on the previous taught or introduced information. Of course, we use critical thinking daily, but I found the breakdown of information helped the girls see better see their reasons for making a certain choice. It is easy to make a decision which could be right decision, but not be able to articulate the reasoning behind the decision. For us, it is important for the girls to be able to stand firm in their decisions whether it is popular or not.
Within the twenty lessons, we were or will be introduced to beliefs and claims, finding evidence, facts and opinions, facts and probable truths, Venn diagrams, advertising, arguments, fallacies, and using critical thinking to make better decisions.
Final Thoughts ...
We are continuing to enjoy this supplemental thinking curriculum. It offers a wide range of activities while also being concise. So far, it is working for both of my daughters although as it continues to delve deeper we may have to adapt for the youngest or knowing her she will continue to hold her own. They do a better job of discerning and figuring out which information is relevant versus what is fluff. The lessons are different from our normal work so it continues to be something in which the girls look forward to completing.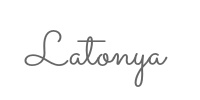 ©2009- 2015 A Little This... A Little That. All rights reserved. All photographs, text, artwork, and other content may not be reproduced or transmitted in any form without the written permission of the author. http://lilthisandthat.com