My younger daughter and I are big fans of board games. My oldest daughter isn't so much, but I find it my duty to find at least one board game for us all to play and enjoy so when USAopoly provided the opportunity to review two of their games, Tapple: Fast Word Fun For Everyone and Wonky: The Crazy Cubes Card Game, I jumped at the chance. I figured reviewing two games would definitely bring us a little bit closer to finding that one game that everyone in our family would be excited to play.
About Tapple:
Tapple is a fast and fun word game. I knew that this game would be in a hit in our family because the girls enjoy word games. The best thing about Tapple is the fact that even though this is a word game spelling is not required. This was great for our family because we are all at different levels when it comes to spelling. The premise behind Tapple is being quick (there is a ten second limit) about calling out a word that fits into a particular category using a letter of the alphabet which has not been used yet.
The game comes with a wheel that has 20 of the 26 alphabet on it and the timer. The 36 category cards can be stored underneath the wheel which allows everything you need to play Tapple to be in one place. There are variety of categories including "things with wheels", "countries, and "on the farm". There are also a few opportunities for the player to choose a category. After the category is selected, each player has ten seconds to call out a word that fits the selected category. When the word is called out the player presses the letter down that the word begins with; once a letter is used it can't be used again.
This game kept me on my toes. I felt myself planning my next word before my turn came and hoping that no one would use the letter that I was planning to use. The girls really enjoy this game. It is a game that they can play alone at any time because the rules are that simple. This game also encourages creativity so if the answers fit the category, it's good. In order to win the game, a player must collect three category cards.
About Wonky:
Although I had read the description before receiving Wonky in the mail, I still had no idea what to expect when we received it. Wonky is definitely a little wonky. This game is a crazy cube stacking game. You may wonder what could be crazy about stacking cubes especially when there is only nine cubes and anyone could easily stack nine cubes. Well, these are not your normal cubes. The cubes aren't even on the sides! This makes it hard for them to stack on top of each other.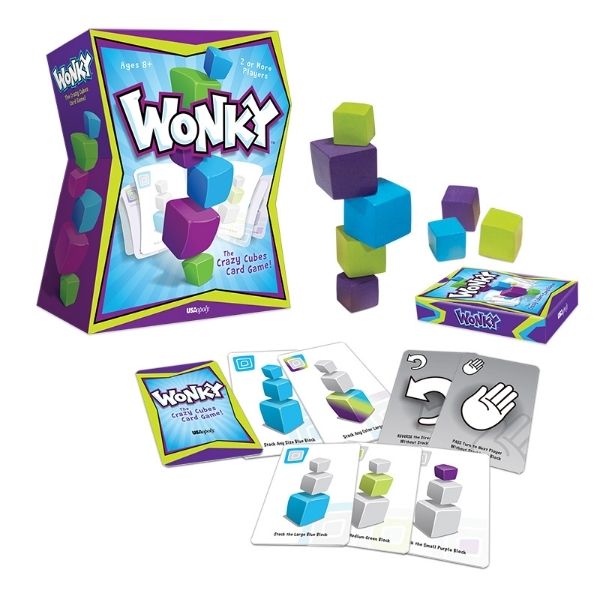 The game comes with nine cubes in three different colors and three different sizes, a set of playing cards, and a bag. To play the game, each player receives seven cards. Each player must select a card to play and do the task that is on that card. The tasks on the card tell the player which type of block to stack and some even allow the player to pass without stacking a block. In order to win the game, a player must get rid of all of her cards. If a player is able to stack the ninth block, you win automatically no matter the number of cards left in her hand.
What do we think about these games?
They are definitely fun to play. Each game is so different that we have yet to become bored with either of them. They both are friendly to all members of our family, and we were also able to enjoy them with friends because they were so easy to play.
I am a new fan of USAopoly games!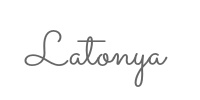 ©2009- 2015 A Little This... A Little That. All rights reserved. All photographs, text, artwork, and other content may not be reproduced or transmitted in any form without the written permission of the author. http://lilthisandthat.com