Latina Christiana I Complete Set :: A TOS Review
Learning a foreign language has always been a part of our homeschool plan. Learning Latin has been a focus of ours this past school year. During our last full section of this school year, we have been using Latina Christiana I Complete Set from Memoria Press.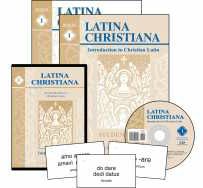 Latina Christiana I is a beginning Latin program geared towards students in third grade or above. My daughters were nearing the end of second and fourth grade when we first begun using this program. The program level worked well for both of them.
We received the full curriculum for this review which includes a DVD set, teacher's guide, audio disc, and a student workbook. I purchased an additional workbook since both girls are using the curriculum.
Leigh Lowe, the Latin instructor, teaches each week's lesson by video. We found that completing one lesson per week or even stretching a lesson beyond a week worked well for retention. I don't believe the program expects the students to completely master all information in one week. I found it necessary for the girls to have a good understanding of most of the vocabulary before moving on so that they would be less likely to become frustrated.
Leigh goes over all of the information listed in the teacher's manual. I found that it worked best for me when I went over the lesson in the teacher's guide before watching her instruction. This allowed the girls and me to go over our pronunciation and understanding of the upcoming work before receiving Leigh's direct instruction. We were often thrilled to find that we were saying the words correctly, and we were also thankful to be able to hear the correct pronunciation of words that we did not pronounce correctly. .
Latina Christiana I is comprised of 25 lessons. All of the lessons follow the same format in the student workbook. Each lesson includes a Latin saying, vocabulary, grammar forms, translation of new and previous learned information, verb tenses, and derivatives. Students also learn about grammar and the parts of speech. This has been a nice inclusion because the girls do not always remember the technical names of the parts of speech and we can review them while learning Latin.
After a few weeks of working with the program, I have learned a few methods that work best for the girls. They benefit more by writing the discussed derivatives in their Latin notebook. We also build onto our knowledge by adding the Latin words to our word board. I used Post-it notes to create this board. On one Post-it note I write the meaning and on a different colored one I write the Latin word. The girls match the words to their meanings. They also add a few derivatives onto the Post-it with the Latin word. This method helps the girls complete the derivative section of the weekly assignment since not all of the words learned are used in our home regularly.
The CD contains the recordings of the prayers and songs in Latin. There are also quizzes for each lesson which we did not complete. There are tests for each unit for a total of five. They can be used to assess the student's knowledge, and are to be completed after every fifth lesson. The tests are straight to the point. Most questions are fill-in the blank or short answers.
I am not a Latin expert, but I found this curriculum to be thorough and engaging. It is a program that is easy to teach even if you have never learned Latin. I like that there are only 25 lessons because it leaves room for me to create and add in additional activities to make the program more livelier especially if the girls are having difficulty with a section.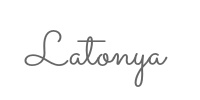 ©2009- 2015 A Little This... A Little That. All rights reserved. All photographs, text, artwork, and other content may not be reproduced or transmitted in any form without the written permission of the author. http://lilthisandthat.com