The saying goes, "when one door closes another door opens." But, happens when you feel like all the doors have closed. I say, you keep on going.
How do you keep going when there aren't any open doors? I believe that you are always on a path. How did you get to that door to begin with?
Sometimes you just have to redirect yourself.
Realign yourself.
Realize that you could also be limiting yourself.
I've had to do all of these at some point in my life.
So, what I'm thinking is that maybe we shouldn't spend so much time worrying about closed doors, but focusing on the quiet voice that whispers to us.
Trusting that if we are truly His and He is ours, His ways will always be better than ours.
This post is part of hosted by Kate Motaung. It feels good to jump in this month.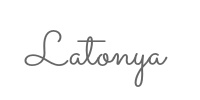 ©2009- 2015 A Little This... A Little That. All rights reserved. All photographs, text, artwork, and other content may not be reproduced or transmitted in any form without the written permission of the author. http://lilthisandthat.com