My deepest desire is to follow the Lord without shifting or getting distracted. I often find this also the hardest thing for me to do. I do well for months and months, and then something happens. I start to think about me. I start to think about all the things that "I" could do if I just jump on to another path.
Well, I know that what I am doing today, Being present for my family, Investing in them, Working on my heart issues are all things that I need to do and that He wants me to do. I need to follow His lead. When I keep my eyes focused on Him and not looking down or around, I accomplish more than I could ever imagine. Those accomplishments may not look big to others, but to me they are humongous because I know where I've come from and the parts of the story behind it all. I may not ever totally get it, but I am working on dropping it all and keeping it out of my hands for good. It's not easy, but well worth it.
When it's hard to follow, don't give up. Don't let your eyes and mind wander because you may just miss out on something that is more precious and worthwhile.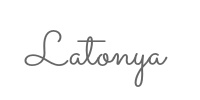 ©2009- 2015 A Little This... A Little That. All rights reserved. All photographs, text, artwork, and other content may not be reproduced or transmitted in any form without the written permission of the author. http://lilthisandthat.com