I'm Going on a Scavenger Hunt
This morning I wanted to add a little fun to our day so I sent the girls on a scavenger hunt. It was simple. I found the clue cards on InnerChildFun. Her website has quite a bit of fun, playful activities for children. I only used three out of the four clue cards.
At first, they weren't certain about the game, but once I gave them a little explanation. They were thrilled, and had a blast following the clues. The last clue sent them out the front door to find their treasure which was Reese's and AAA batteries for the Playaways that they checked out.
As usual, one thing sparks another, and the girls decide that I needed to go a scavenger hunt, too.
Here is the clue that I was delivered:
I could only smile when I read the clue. They don't forget certain things, I tell you. They remembered the release date of the movie. Did you guess what I was suppose to retrieve?
If you guessed Annie, you are right. I don't have a prize, but you were right :)
We went out to grab it today after we finished our lessons.
How was your day? Do you find that your children remember certain things and forget others?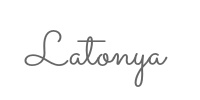 ©2009- 2015 A Little This... A Little That. All rights reserved. All photographs, text, artwork, and other content may not be reproduced or transmitted in any form without the written permission of the author. http://lilthisandthat.com