Real Life Homeschooling :: Finding Balance Between the Books
Discover real life in other homeschools with the Schoolhouse Review Crew bloggers! Join the blog hop to read more!
Over the past few months,
the girls have been completing quite a bit of book work. In general, they don't mind, but I tend to find it mundane. Not that there is something wrong with curriculum, but when all of their teaching is coming from textbooks during our school hours it bothers me a little.
This usually happens when I am tired or distracted. I am thankful that they can be independent for this reason, but then I struggle with not interacting with them as much as they are completing their lessons. Oftentimes, they need very little help. I don't know if this is a sign that I may need to challenge them more or not.
Working on math with dad
Since we have gotten settled in our new place, I have been more intentional as far as putting down the books and getting back to learning alongside my girls.
One way we have returned to relax learning is reincorporating art, read aloud time, and nature back into our lives. We are back to having candid conversations. I am not sure if that ever stopped, but it sure felt like it did.
I can say that not only did we need to step away from the books, but also the electronics. I am okay with the girls using technology, but they have also noticed that they are missing out in on other things. When we are so engrossed in one thing, we disconnect ourselves from other things that can be just as fulfilling or good. I am thankful that they have were able to notice the disconnect on their own.
When I mixed it up on Monday by doing a little bit more hands-on activities versus just doing the regular lessons, they seemed happy. Our youngest was happy for the change of pace.
Since we have put away some of our books, I have relearned a few things about our way of home educating.
1. Chances are we will never be a curriculum free family especially in math because the girls desire book work. It gives them the "school" feeling.
2. I must be intentional in adding in different methods of teaching. It is so easy to just follow the books. I'm not saying that I don't hone in on certain things if we have a hard time, but what I mean here is just giving the books too much control.
3. I enjoy adding things that I created to our learning environment.
4. Lastly, I really just enjoy doing life with my girls, and I don't need much to do that :)
Do you take a break from the books? Share your homeschooling thoughts with me.
Read about more Real Life Homeschooling from these lovely ladies ...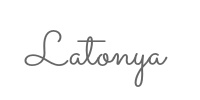 ©2009- 2015 A Little This... A Little That. All rights reserved. All photographs, text, artwork, and other content may not be reproduced or transmitted in any form without the written permission of the author. http://lilthisandthat.com