On My Bookshelf: One More Step by Rachel Wojo
One More Step by Rachel Wojo offers inspiration when life feels too hard. Rachel offers practical tips for taking the next step whether it's moving past an emotion, a loss, or any type of situation that causes one to feel like quitting. She shares her story of hardship and disappointment. This inspirational book reminded me of the strength within which is freely given by the Creator to those He created.
As Rachel shares her story, she does well by drawing the reader into her real life story. This is not the account of a fictional person, but of one who has lived the things she is sharing with the reader. It's her authentic story of finding and leaning on her strength to continue moving forward.
One More Step is filled with faith building tips. Each of the 16 chapters causes the reader to delve deeper into her faith. One of my favorite chapters is about grace. I haven't always understood grace. It wasn't a subject that was talked about much so my exposure to grace only begun a few years ago. I am still learning to be more gracious and to freely accept the grace bestowed upon me. My favorite passage from this section is ...
"Grace has properties unlike any physical, tangible object because grace is from God. Grace is a liquid that can take on the shape of any container. Grace is a solid that is locked into place. Grace has the property of gas; it flows freely."
Although Rachel's story is the basis of One More Step, she shares opportunities for application. At the end of each chapter, there's a section called, "Pillars of Truth to Lean On". This section shares Scripture that can be called up when facing challenges related to the subject of the chapter such as overcoming the overwhelming or when you are dealing with a situation you didn't sign up for. Another section at the end of the chapter is "Stepping Stones" which offers journaling or writing opportunities for the reader. There are great prompts which help the reader to get out of her head, and began working towards the next step in having a life of peace or resolve.
One More Step is a book of encouragement, and can be read during any season of life. I enjoyed the practical tip and verses Rachel has shared throughout this book.
"I received this book from Blogging for Books for this review."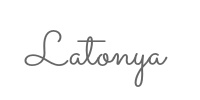 ©2009- 2015 A Little This... A Little That. All rights reserved. All photographs, text, artwork, and other content may not be reproduced or transmitted in any form without the written permission of the author. http://lilthisandthat.com